Recycle Right Super Bowl Sunday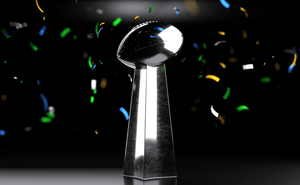 Super Bowl Sunday. In my house, this is almost like Christmas. Wait. That's not right, it is bigger than Christmas. I grew up with brothers, have been married for 30+ years and have sons and I work with almost an entirely male staff, so I get it. Super Bowl is big!
But that doesn't mean I can't add a recycling flair to it! Whether you're a 49ers fan or you're rooting for the Kansas City Chiefs or maybe you only watch for the commercials and the half time show - I admit I'm looking forward to J-Lo and Shakira! Whatever the case, I am here to help your party be a more eco-friendly one.
First and foremost, make recycling easy. Put a bin out where it is easily accessible. Let your guests know you recycle and you'd appreciate it if they'd play along. Penalties for anyone who throws trash in the bin! Maybe, tape a picture of what can go into the bin so everyone knows.
When you're headed to the store to grab your party goodies, take a reusable tote bag.
Buy in bulk, there is less packaging that way.
I know this one is a bit harder, especially if you're having a large crowd, but try and not use one-time plastic items like cutlery and plastic plates. Sure the clean up will take a little longer, but it's worth it.
Serve finger foods and do away with the plates and bowls. Napkins are all you need and remember: napkins are not recyclable, so feel free to throw them in the trash or compost.
Those red solo cups (plastic #6) can go in the bin. Make sure they are rinsed clean. As long as you're rinsing them clean, you may as well wash them and keep them for the next party. #Reuse They're sturdy little buggers! Oh, and for the record, contrary to the song by Toby Keith, they are not compostable.
Serve your treats in reusable dishes, trays, plates, etc.
Finally: Make recycling easy. I know I said it earlier. I felt it needed repeating.