What's the big deal about plastic bags?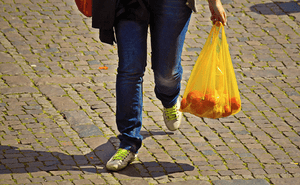 How did plastic bags get to be such a big deal?
Well, it all started not really so long ago ...
The year was 1960 when a company called Celloplast out of Sweden had an idea for tubing for packaging purposes. The tube, when laid flat, would be sealed on one end and left open on the other so it could be stuffed with product.
In 1965, a team member from Celloplast took it one step further. He thought if you sealed the bottom, but punched holes to create handles on the other end, you could not only stuff it with product, but it would create handles for carrying.
And the grocery bag was born. However, it didn't catch on right away. It was introduced to America in 1979 but it wasn't until 1982 that 2 major grocery chains, Kroger Co. and Safeway, began using them. Even then, few other retailers jumped on board. In 1985, at a plastics conference in New Jersey, a speaker pointed out that plastic bags cost less than paper sacks. One thousand plastic bags cost a retailer approximately $24 while the same number of paper bags ran close to $30.
That's all it took. By the end of 1985, more than 75 per cent of US grocery stores began asking, "Paper or Plastic?" (Interesting side note: City dwellers liked plastic bags because they were easier to walk with and were waterproof, while suburban residents preferred the paper sack that stood up nicely in the trunk of their car.)
Fast forward …Today, the United States uses 100 BILLION plastic bags each year. It takes an estimated 12 million barrels of oil to produce that many bags. In 2014, California became the first state to ban the plastic bag entirely. Following suit, over 150 US cities and counties now have either a ban or require a fee on all plastic bags. It's a start. But we can do better.
Remember most municipalities DO NOT accept plastic bags in their curbside recycling. They can get tied up in the equipment at the Material Recovery Facility and cause the machinery to shut down. To do your part, please take along a reusable tote or request a paper sack. Make it a habit! Without you, it's just trash.